Once you get into crochet, you will inevitably end up with some extra yarn here and there. You will probably also purchase some yarn just because you love it and do not have a plan for it. You may also purchase yarn with a plan, but then never actually execute it. This will, most likely, add up and create a "yarn stash."
---
So, how to use up your leftover yarn stash in crochet?
Inventory your yarn stash
Organize your yarn stash (by weight, color, and amount left)
Research potential patterns (think about larger multi-colored patterns or small monochromatic patterns)
Choose your patterns with your yarn options in mind
Crochet away on your stash buster projects!
---
"Stash" is defined as, "Something stored or hidden away," by Meriam-Webster. Oxford Languages is a bit different with, "A store or supply of something, typically one that is kept hidden or secret." Is your yarn stash your dirty, little secret?! Is it hiding under your clothes in your closet and in cubbies meant for shoes? Mine was! Keep reading for details on how to fix this!
Inventory Your Yarn Stash
Inventory! What!? Am I at work!? It seems overwhelming because I have so much yarn!
Maybe it seems like you don't have a lot of yarn, so this isn't necessary at all!
Well, I would definitely recommend this for anyone who has a small or a large yarn stash! It will feel good to know exactly what you have and to be able to "shop your stash" easily, whether it is small or large!
How to inventory your yarn
Take out ALL of your yarn
Get all of your yarn out of your stash areas. Don't leave any behind! Sit down at a table or on the floor and separate it all.

Make it neat
This can be a little tedious, but if you have partial skeins that are all tangled, I highly recommend taking the time to wrap it neatly. You can use your hands to make a center pull yarn ball, or you can buy a machine that will do it for you.

This will take time now, but it will save you a lot of time later! And you will be much more likely to actually use the yarn if it is already ready to go and you don't have to take the time untangling it when you are antsy to start your project!

Determine what you have
Once your yarn is out and neat, you can figure out what you actually have.

Start with separating out any specialty type yarns such as Bouclé (looped yarns), eyelash, or ladder yarns. Or any others you may have that are just "different" like that.

For the rest of your yarn, you will want to figure out what the yarn weight is. This is easy if you have the label from the yarn, just read the label. If you don't have the label it can be a little bit trickier.

You can start by comparing the yarn thickness to other yarns that you know the weight of, but this won't always be accurate. There is a method to determine yarn weights that uses a pencil and a ruler. Check out the

tutorial

on how at Bluprint.com.

Determine the approximately amount left of each yarn. If you have a full skein this is easy. If not you can weight the yarn and use an online yardage calculator to estimate the yardage. Some patterns will specify a number of grams of yarn needed, so sometimes all you need is the weight in grams versus the actual yardage. You can also just kinda eyeball how much you have left (3/4, 1/2, 1/4 skein, etc).

Determine the material if you can. Is it cotton, wool, acrylic, a blend of some sort. You get the picture. If you can figure it out, it is nice to know, especially when mixing yarns. They may have different care instructions, a different amount of "stretch" to them, or other things that could affect mixing the yarns in a project.

Label the yarn once you determine the above characteristics. This will make it so you can at a glance know what you are looking at just like if you had the original label.
How to keep track of your yarn inventory
If you would like to be able to go on your computer or phone and see what yarn you have, instead of physically looking at your stash, you can actually make a list of your yarn. You could do this in Excel and make a spreadsheet sorted by weight, amount, color, and whatever else you want to put on there.
You could also use Ravelry.com which has a "Yarn Stash" feature! To do this, you will make a free account. When you log on, there is a drop-down menu on the top right of the page that says, "My Notebook." When you go there, there is a page called "Stash." You can fill out all of the information there and have it at the touch of a button!
With this feature, you can also search patterns based on the yarn you have in your stash! To do this you go to the advanced search options, and check the box under "my notebook" that says, "yarn in my stash." Pretty cool really.
Organize Your Yarn Stash
So, you know what you have. Now, how to organize it so it doesn't end up under clothes in the closet again?
The first place to start is sorting by yarn weight. In general, if you are mixing and matching yarns, you want it all to be the same weight of yarn. You typically won't put a thinner sport weight yarn with a thinker, bulky weight yarn.
This will also make it much quicker and easier to choose a yarn when you have a pattern for a specific weight of yarn. You go to your stash of bulky (weight 5) yarns and see what colors you have!
Next, sort each of the weight categories by color. This will make it easier to find complementing yarns. Plus, it is just visually appealing!
Lastly, I recommend sorting by the amount of yarn left. Maybe not precisely, but at least for those ones that you have a lot of or very little of. The ones you have a lot of could be a whole project by itself. The ones you have very little of you may want to save for just really small projects or accent work.
Where/How to Store Your Yarn Stash
Preferably, somewhere where you can easily access and see it. There are many options for what to use though. Here a just a few of the options I have seen or thought of.
Hanging shoe organizer
I LOVE this one for a few reasons.

Keeps it off the ground.
They are often clear plastic so you can see what you have.
Very easy to access.
Doesn't take up much space!

Hanging closet organizer (the cube kind)

This is great if you have more than will fit in the shoe organizer.
Many of the same benefits!

Clear plastic tubs

Nice because they are sealed
You can still see through them to know what's in there.

Baskets of any style/type

Good if you want a more decorative feel to your stashed yarn!
You may also be more inclined to just pick up some yarn and start crocheting if it is already in a basket next to you

A bookshelf of any style

Again, gives you a more decorative feel! Add some color to your space!
Can hold A LOT of yarn
Easily accessible

A dresser

Can hold A LOT of yarn
Nice if you have the space or an extra around
Keeps it hidden away, but easily accessible if you don't like that much color on display
Research Potential Stash Busting Patterns
You can definitely google search, google image search or Pinterest search this and find literally hundreds, maybe thousands of ideas. The first hit on google right now is from Pinterest and says, "269 Best Crochet Stash-Busters images."
To me, that is CRAZY overwhelming! I won't even look at it! I feel like, if I know I DON'T want to make a granny stripes blanket, I don't want to see 75 versions of that while I'm browsing.
If you DO like to browse like that, for sure, DO IT! You will be able to pass a lot of time and find GREAT ideas if that's how you like to work! I have nothing against people like you. You are awesome, and your brain works differently, probably better than mine!
I'm just more of a give me a category of things, then I can search a specific pattern from there. I feel more organized that way. So, if you are more like me, here is a list of some of those "category" ideas.
Small projects
Monochromatic for small amounts of yarn left or you can do multicolored still if you like!
Coasters
Jewelry (earrings, bracelets, necklaces)
Headbands/ear warmers
Bookmarks
Pom-poms/Tassels
Hair scrunchies
Appliques
Mug cozies
Boot cuffs
Use the small yardage yarn as an accent color

Edging a blanket
Adding a few strips of an accent ad lib
Handles for a bag
If a pattern says to purchase an accent yarn for 1 or 2 stripes, shop your stash first
Medium-sized projects
Monochromatic or multicolored depending on how much of a single yarn you have in your stash.
Amigurumi
Wrap things in yarn

cords
bangles
gifts-use like ribbon
cardboard letters

Open work scarves
Baby hats (you could even donate for preemies!)
Any hat really
Color blog tote/market bag
Phone/table cases
Large projects
Multicolored stash busters.
Afghans
Pillow cases
Table runners (color blocking?)
Place mats
Clothing

dresses
sweaters
maxi skirts
tank tops

Anything with granny squares
Choose Your Stash Busting Patterns
What to consider when actually choosing your pattern
When you chose your pattern, you will want to consider a few things about your yarn stash.
First, how many colors do you have and will they complement each other. You don't just want to choose a pattern that has 12 colors if you don't have that many that will go together. Think about things like complementary colors (refer to a color wheel) or ombre-type projects with a lot of shades of the same color.
You will want to make sure the weight of yarn you will use matches the type of project. If you are trying to make a lightweight tank top, you probably don't want to use a bulky yarn!
Also, look at how many yards of yarn you have versus what the pattern calls for. You don't want to get 3/4 of the way through and run out!
Lastly, think about if you are going to have to purchase extra yarn for the pattern. If so, are you willing to do that? Maybe you have most of the yarn you need, but you need just one more color. If you are cool with that, go buy that last skein.
Other things to consider besides just "busting the stash"
Just because it is leftover yarn, and you have the right kind and amount for a certain project, doesn't mean to just pick that pattern willy-nilly just to use up the yarn.
Here are some things to consider when narrowing down to actually pick your patterns.
Think about what you will actually use and like. If you aren't into granny square blankets, don't make one for yourself just to use up your yarn stash. Even if you have EXACTLY what is called for in the pattern, you don't want to make something that will just sit in a storage bin or closet. That kind of defeats the purpose of using the yarn stash!
Consider the things that you could give as gifts. I really love to give crocheted gifts! They are so meaningful! I actually was recently able to make a tapestry backpack to give to one of my best friends as a gift with yarn from my yarn stash! She LOVED IT, and I got to use some of my yarn up! I love it when I can multi-purpose projects like that!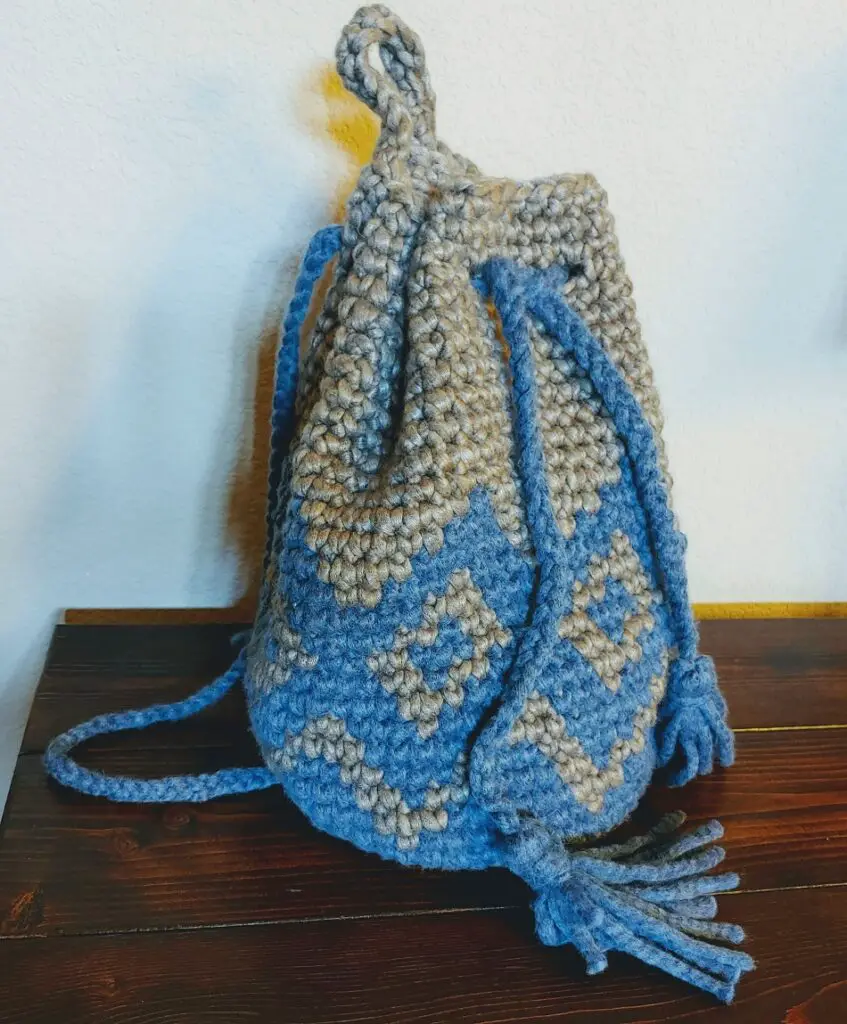 Think about what events or holidays are coming up. You may be able to crochet some of the decorations for these things. A new baby? Crochet appliques for a mobile or some baby bows. Birthday party? Crochet a garland with shapes or make a pom-pom or tassel garland! Christmas? So many options! Tree ornaments, standing crocheted Christmas trees, stockings, tree skirts….the list can go on and on. Heck, you could probably find a pattern for a crocheted manger if you looked for it!
Crochet Away With Your Stash Busting Patterns!
So now, JUST DO IT! But wait, that isn't always so easy either, is it? We can have all the plans and be as organized as we want, but sometimes we don't just sit down and do it.
Well, here are a couple tips for doing just that.
Set a goal.
Make a commitment to complete a certain number of projects on a certain timeline. Be specific, that is the only way goals work.
Don't buy more yarn
You could commit to using up a certain amount of your stash before you purchase any new yarn.
Set a time to crochet
You could pick a specific time, or say a certain number of minutes per day. This could be while you are riding in a car (not driving please!), while watching TV, just before bed to wind down for the night, during your prayer time (sometimes having something mindless to do while praying actually helps you concentrate more instead of your mind wandering). You get the picture. Just set aside some time.
---
So, now you know how to organize and use up your yarn stash with some tips on choosing your stash-busting patterns! I hope you follow through for the sake of your storage space and your creativity! If you think of any other questions about this topic, drop me a comment, and I will answer the best I can!
---
Now it is time for YOU to get Crafty with Ashy! Show me your stash-busting projects in the comments!
---
Be sure to subscribe and follow me so you don't miss any inspiration!
---