I've been crocheting for years, and I still find myself doing a little research before washing my yarn. There are so many different types of yarn, and each has its own set of instructions. Today, we will focus on the cleaning instructions for the three most common yarn fibers: acrylic, wool, and cotton.
---
To wash yarn before use, place it in a mesh laundry bag and wash based on yarn fiber content. Acrylic yarn can be washed on the regular cycle, then dried with low heat. Wool yarn should be hand washed in cold water and laid out to air dry to prevent felting. Cotten yarn should be washed in cold water and either laid out to air dry or dried with low heat to avoid shrinking.
---
Acrylic is by far the easiest type of yarn to wash because it's not nearly as sensitive as other fibers like wool or cotton. Wool needs special care when being washed because it can shrink or felt easily. Cotton is very susceptible to shrinking too, but it is a more durable fiber than wool.
How to Wash Yarn
Based on the label care guide
If you have the label, your best bet for washing the yarn is to do what it says on the package. There should be a bunch of little symbols that indicate the care instructions. If you are like me, you probably have completely ignored these in the past, and also, you don't know what they even mean!
Well, I have found that information for you! Below is the information on standardized care symptoms from the Craft Yarn Council for your washing pleasure!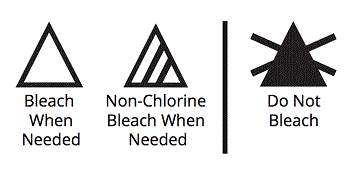 These instructions apply to washing yarn prior to use (while it is still wrapped in the skein or hank) or after a project is completed.
If you are washing your yarn prior to use, the BEST option is to place it in a mesh laundry bag, like some people use for intimate apparel or socks. This will help prevent the skein from unwinding in the wash and becoming tangled.
Acrylic
Washing acrylic yarn is the most simple. It is a synthetic fiber (manufactured) and is very durable. Generally speaking, all you need to do is machine wash with cold or warm water. It can be washed with your regular laundry because it does not really require any special care.
The only thing to be concerned with for acrylic yarn is the intolerance to high heat. Acrylic yarn will melt. You can wash in cold or warm water, but I would avoid hot water. Dry the item with low heat to avoid any issues. NEVER iron your acrylic yarn!
You can also hand wash and lay flat to dry if you prefer. Do not hand your item to dry as the yarn will stretch and deform your project.
Wool
Wool is a beloved material for many crafters because of its soft texture and warmth; however, it is more finicky when it comes to washing. This is because wool will felt if cared for incorrectly.
Felting basically means the wool fibers will become matted and tangled together within your project, and you will lose the definition of the fibers. This really does ruin your crocheted or knitted item.
To maintain the integrity of your wool, handwash the yarn! I know this can be frustrating, but you don't want your yarn ruined.
To handwash, use lukewarm water and gentle soap or shampoo. Avoid any harsh chemicals that will ruin the fiber's quality. I would recommend shampoo because wool is a natural fiber like our hair. Shampoo will maintain the natural oils in the wool and keep it "healthy."
After you're done cleaning and rinsing thoroughly, gently squeeze out excess water without wringing it.
Finally, lay flat on a towel so that you remove all moisture from your yarn. If your yarn is still in the hank/skein, you can work with it after it is completely dry. If you are cleaning a wool item (like a sweater), you should "block" it while it is drying to maintain the shape.
Block simply means laying the crocheted or knitted item on a towel in the desired shape while it is wet. If you do this, the item will maintain its shape when it is dry without stretching. If the project does not stay how you want it, you can use rust-resistant pins to keep it in the proper shape. Usually, this isn't an issue for clothing items.
Cotton yarn
Cotton yarn is a plant-based fiber and overall durable in washing. You can use a regular cycle with cotton yarn, but the delicate cycle is usually recommended with warm water. Cotton is a common fiber for clothing and can be washed over and over, but it is susceptible to shrinking.
Because it can shrink, you should use low heat when drying. If you are washing your skein before use, put it in a mesh bag and dry it on low heat.
If you are drying an item made with cotton yarn, consider the fit and the need for maintaining the shape. Is your item a fitted shirt that needs to maintain the proper shape? If so, you should block it while drying flat. Is your item okay to be relaxed and have some changes in shape? Then you can dry on a low heat setting to prevent shrinking. Do you want your item to shrink some? Then go for high heat and shrink away (but remember, this is not always predictable!)
The Benefits of Hand-washing Your Yarn
Hand washing yarn is a safe alternative for any type of yarn. When you hand wash, you control the amount of agitation, stretch, etc., the yarn is exposed to. This will ensure the item is not damaged.
Typically, hand washing is recommended for any fiber or yarn with natural, animal-based fiber content. This includes things like wool, alpaca, mohair, etc., because these are high maintenance fibers when it comes to laundering.
Plant-based fibers like cotton are also safe to hand wash, though they can tolerate washing without damage.
Hand-washing and laying out to dry will also ensure that your yarn maintains the original length and thickness. After a project is completed, this will ensure it maintains the desired shape as well.
Tips for Washing Yarn by Hand
When you are washing your yarn, you should use warm (NOT HOT) water. Fill your sink or bucket with water and add your desired detergent. Shampoo is a good option for animal-based fibers like wool because it helps maintain the natural oils in the yarn. For other fiber content (like cotton or acrylic), a mild laundry detergent will work well.
After gently massaging your yarn/item to remove dirt, drain your soapy, dirty water, then fill again with clean water and rinse the item gently. Alternatively, you can rinse your yarn under gently running water.
When you are done washing, squeeze out any excess water. DO NOT RING THE WATER OUT, as this will cause the yarn to stretch and lose its shape. Lay your yarn out or reshape your item flat on a towel to allow airflow and absorb moisture.
It is best to let items dry outside if possible! If you are inside, make sure to place your items in a well-ventilated area.
Tips for Machine-washing Your Knitting and Crochet Projects
Washing your project in the machine on a delicate setting is typically fine, but if your project contains wool yarn (or other animal-based fibers like alpaca or mohair), it should only be hand washed and laid flat to dry.
For all other fiber contents, I recommend washing your project on the delicate cycle with warm water and gentle detergent. This is safe for all fiber contents that are plant-based or synthetic (cotton, acrylic, etc.) The gentle/delicate cycle limits agitation and helps maintain the shape of the item.
To machine dry, use low heat. You can remove items before they are completely dry and reshape flat on a towel to finish to maintain their shape without stretching if the item is clothing where fit is essential.
It's always best to err on the side of caution when it comes to caring for your precious crochet or knitting supplies! If in doubt on what you should do, or if you don't know the fiber content, hand wash the item in cold water with a very mild detergent or shampoo!
---
I hope this post helped you learn how to wash acrylic, wool, and cotton yarn and care for your crochet (or knit) projects! If you have any questions or want some advice on what type of washing machine setting is best for your specific project, I'm here to help! Just ask below!
---
Now it is time for YOU to get Crafty with Ashy!
---
Be sure to subscribe and follow me so you don't miss any inspiration!