Bacon is delicious. Whether you like it crispy or chewy, bacon can make any meal better. But do you need to flip bacon when frying, cooking in the oven, or using an air fryer? And how long should you cook bacon on each side before flipping? This blog post answers these questions about cooking bacon! 
When cooking bacon on the stove, you should flip it halfway through for an even finish. When baking or cooking in the oven or microwave, there is no need to flip bacon (unless it is thick-sliced) since the heat moves around the food. In an air fryer, you do not need to flip bacon either.
Let's look more at flipping bacon with each of these methods and the timings!
Do You Flip Bacon When Cooking It On The Stove?
When making bacon on the stove, you typically want to flip it for more even cooking. Your cooking time will vary depending on the thickness of the bacon. But in general, five or six minutes on each side is appropriate. 
If you have very thin bacon, you may not need to flip it. You can determine this based solely on the appearance of the meat. If it is thoroughly done, you can remove it without flipping. For thinly sliced bacon, you can also use a bacon press which will heat the top part of the bacon without having to flip it.
For thicker slices of bacon, these methods will not work, and you will need to flip it.
Do You Flip Bacon In The Oven?
When cooking bacon in the oven, there is generally no need to turn it over halfway through as the heat circulates in the oven to help create even baking.
For thick slices of bacon, I recommend elevating your meat from the pan while baking by using a baking rack to help even cooking on both sides. You should flip the bacon halfway through cooking if you do not do this. The thick bacon does not tend to cook evenly in the oven when it remains in the rendered fat.
Related Content: Where Does Bacon Come From? What Part of The Pig?
Do You Have To Flip Bacon In An Air Fryer?
There is no need to flip bacon when cooking it in an air fryer. In fact, flipping can actually lead to uneven cooking and make your bacon chewy instead of crispy. Air frying your bacon will give you a crisp texture on all sides as long as you cook it for the right amount of time.
Do You Have To Flip Bacon In A Microwave?
You do not have to flip bacon in the microwave. Layer the bacon between a few paper towels and cook for about three minutes (normal cut, not thick) for mildly crisp bacon!
How Long Do You Cook Bacon On Each Side? When Should You Flip Bacon?
Cooking bacon on the stove usually takes about five to six minutes per side, so you should flip the bacon after five minutes.
If you have thick bacon, I recommend flipping after six minutes, cooking on the other side for about six minutes, and flipping to cook for more time on each side as needed. This will help ensure the most even cooking and prevent burning areas.
How Do You Cook Bacon Without Flipping It?
If you are making your bacon on the stove, you will likely need to flip it. The only exception is, for very thin bacon, you can use a bacon press to cook both sides evenly without flipping. 
In the oven, lay your bacon on a wire rack set on a pan instead of cooking in the rendered fat. This allows the bacon to cook evenly without flipping. 
Related Content: What Is The Purpose Of A Bacon Press?
How Do You Know When Bacon Is Done Cooking?
Cooking times will vary depending on how thick your bacon is and what method you are using to cook it.
Pork should be cooked to an internal temperature of 145 degrees, but because bacon is sliced thinly, you cannot measure this with a meat thermometer. Because of this, you need to determine doneness based on appearance. The meat portions should change from pink to reddish-brown, and the fatty areas should change from white to golden brown. 
See the pictures below for reference.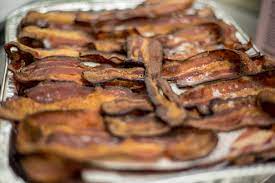 ---
Overall, when cooking bacon on the stove, you need to flip it; when using other methods, you don't! If you think of any other questions about this, let me know, and I'll try to find the answers for you!
---
Now it is time for YOU to get Crafty with Ashy!
---