Crochet hooks come in many different shapes and sizes, but they all have one thing in common – you need to know how to hold them properly! There are two ways you can hold a crochet hook: the pencil grip or the knife grip. Which one you use is up to personal preference, though many people will say that the one they don't use is the wrong way!
---
The two ways to hold a crochet hook are the pencil grip and the knife grip. A pencil grip is "underhand," with the hook's handle resting over the web space between your thumb and first finger. The knife grip is "overhand," with the handle resting under the pinky side of your palm.
---
So let's dive into these two variations and some considerations! Which should you use? And which hand should be holding the crochet hook?
How to Hold a Crochet Hook
There are two grip styles for holding a crochet hook: the pencil grip and the knife grip.
Pencil Grip
For the pencil grip, picture how you hold a pen or pencil (or pick up a pencil and see!), then grip your crochet hook the same way.
There is a flat thumb rest on a crochet hook, so place your thumb there, then allow your other fingers to naturally grip the hook.
There are a few different variations of the pencil grip, just like we all hold our pens/pencils differently. You may only put your index finger on the top, then have the hook resting against the side of your third finger, or you may have both your index and middle finger on the top. Do what feels right to you!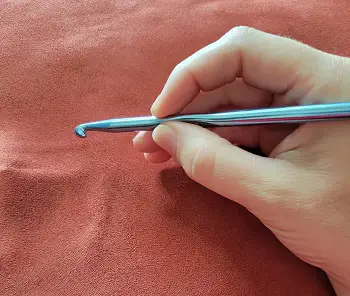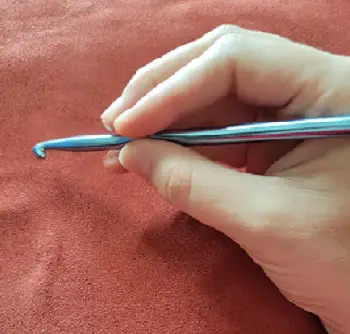 Knife Grip
For the knife grip, picture how you hold a knife (or again, pick one up) and hold your hook that way.
So for this hold, you will again place your thumb on the flat thumb rest part of the hook, but with your hand OVER the handle, then wrap your fingers around the back side.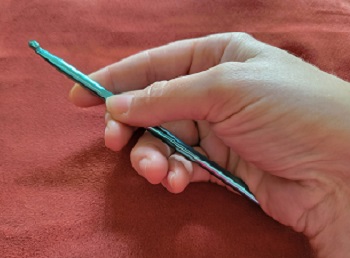 There are a few variations of this hold as well when it comes to finger placement. Generally, you can avoid your fingertips entirely and have your index finger wrapped on the back side of the thumb rest, or you can have your index finger on top of the "throat" just above the thumb rest. (See the pictures, it is easier to understand!).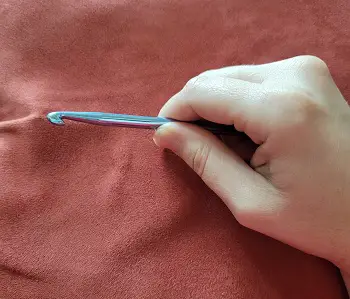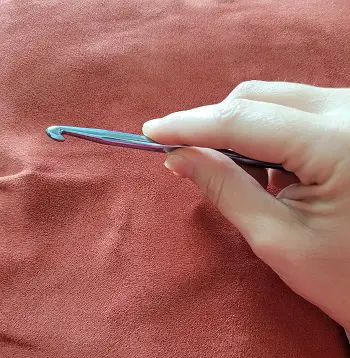 What is the Best Way to Hold Your Crochet Hook
It turns out that there's no right answer about which way is better when it comes to holding your crochet hook. You need to determine the one that feels comfortable enough for long periods of crocheting time! The best way to find what works for you is by experimenting with both grips for a little while.
You may also find that you switch depending on the project. For me, the pencil grip is comfortable for most projects, but the knife grip is better when I am using very bulky, thick yarn (like weight 6 or 7) because my hand doesn't get as tired!
Is There A Wrong Way To Hold A Crochet Hook?
Holding your crochet hook the wrong way can lead to pain/injury. The "wrong way" is holding with a very tight grip leading to too much tension in your project, pain in your hand/forearm, and eventually an overuse injury. Holding the hook toward the end of the handle is also wrong and will result in little control and extraneous movements.
If you are interested in my tips for preventing overuse injuries while crocheting, check out my crochet overuse injury article!
Which Hand Should You Hold a Crochet Hook In?
Typically, you should hold your crochet hook in your dominant hand. This will give you to most coordination and control. The same crochet hooks can be used in the right or left hand, as they are not designed for "handedness."
Because crochet hooks are not designed to be used in a specific hand, if you want to hold your hook in your left hand (even if you are right-handed), you do not have to purchase a special hook.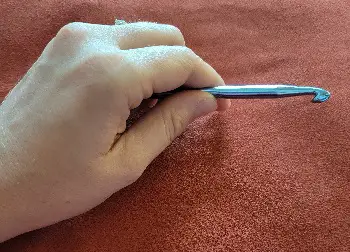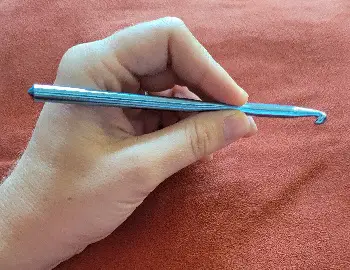 I have noticed that many "lefties" do a lot of things "right-handed" because many items are designed for use with the right hand. (Again, not crochet hooks.) Because of this, many left-handed people will still choose to use their right hand to hold the hook because they have enough dexterity and control with it for crocheting. Also, many tutorials are shown from a right-handed perspective, making it somewhat simpler to follow if you do right-handed. 
It is not wrong to crochet with your hook in the left hand, though! So if that is more comfortable for you, do it!! 
A thing to note is you will work from left to right and clockwise versus from right to left and counterclockwise if you are working left-handed. This will result in projects with a slightly different look because the natural lean to the stitches will be in the opposite direction. No one will ever notice this unless comparing two of the same project side-by-side.
---
I hope this article has helped you figure out the best way to hold your crochet hook. Whether it's pencil or knife grip, you are right! Let me know in the comments which style works best for you and what benefits it gives you!
---
Now it is time for YOU to get Crafty with Ashy!