Crocheting with thin yarn or thread is a great way to create delicate and intricate pieces that would be impossible to crochet with thicker yarns. For those of you who have been wondering what you can crochet with thin yarn, we have an answer!
---
There are many types and sizes of crochet thread, from size #3 (thickest) to size #100 (thinnest). You can make many types of lace, artwork, jewelry, or clothing with crochet thread. When using, relax and ensure good lighting due to prevent eye strain due to the small size.
---
Let's look further into the differences between crochet thread and yarn, what you can do with crochet thread, and some additional tips!
What is the difference between crochet yarn and crochet thread?
Crochet thread is technically very thin yarn. The differences are the diameter and the number system. Yarn is numbered from 0 to 7, with the larger numbers being thicker. Thread is numbered from 3 to 100, with the larger numbers being thinner. Both can be made from various fibers (e.g., cotton, acrylic, wool) and have multiple fibers twisted together to create a single strand.
Thin yarn for crochet is weight 0 or lace weight yarn. This is the lightest yarn available and creates a lightweight fabric that can be used for lacework or even crochet jewelry or extremely delicate baby items such as booties or hats.
Crochet thread is very similar to lace weight yarn in that it produces a lightweight fabric. However, crochet thread is even thinner than laceweight yarn! The "heaviest" crochet thread (#3) is similar in thickness to the lightest crochet yarn (0).
Crochet thread comes in a variety of thicknesses, just like yarn. It ranges from #3 to #100, with the smaller numbers being thicker threads.
Crochet yarn and thread can both be made from natural materials (like cotton or animal fibers) or synthetic (like acrylic).
Crochet yarn and thread are also both made by twisting several fibers together to make a single strand. The thickness of the fibers varies as well as the number of fibers.
What is the thinnest crochet yarn?
The thinnest crochet yarn is weight 0 or lace weight yarn. This yarn has a tiny diameter and is perfect for crocheting delicate projects like baby items, lace, or jewelry.
What is the thinnest crochet thread?
The thinnest crochet thread is #100, which is comparable to common sewing thread in thickness. It is not commonly used/sold. The thinnest "normal" crochet thread is #30, thicker than #100 but much thinner than the lightest crochet yarn (lace weight/0).
The sizing system for crochet threads is designed to look at weight, not diameter of the fiber. The standardized system measures the number of kilometers of thread required to weigh 1 kilogram and designates that as the size (from #3 to #100). Because it is looking at length, the larger the number, the thinner the fiber.
It can be confusing, but basically, the thinner the thread is, the lighter it is. The lighter the thread is, the longer it has to be to weigh a kilogram.
It may seem more straightforward to just tell us the thickness of the thread, but you won't find that information. Thickness/diameter is not standardized; only the length for 1 kg is. So if the thread is denser, it will weigh the same with a smaller/thinner diameter. This means that all #3 threads may not be exactly the same diameter. 
Why are there so many different types of threads, and what's the difference between them?
Crochet thread is offered in various weights (thickness) and fiber types, just like yarn! This is because different projects will require different thicknesses, different elastic properties, different colors, and different textures!
If you are making an intricate "The Lord's Prayer" lace masterpiece (which my grandma did!) You want thin thread, or it will be HUGE! Also, you will see more detail with the tiny stitches made from thin material. (Think small detail paintbrush vs. large brush for more abstract looks).
If you are crocheting doilies or table cloths, you'll want thicker thread because it will hold up to more wear and washings! Also, you do not need as much of the intricate details, and you will want the project to work up a little faster, which a thicker thread will do.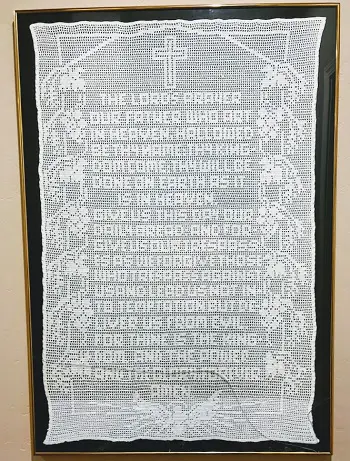 How to crochet with a thin thread
To crochet with thread, you use small, steel crochet hooks numbered from 00 (largest at 2.7 mm) to #14 (smallest at .9 mm). As with crochet thread, the larger the number, the smaller the diameter. You can use the same stitches to crochet with thread as you do with yarn.
There are some "typical" styles of crochet lace, which are made with crochet thread.
Filet Crochet: uses a pattern of "solid" and "open" blocks or squares to make a picture or words. The "open" squares are made of chains with a double crochet on either side, the "solid" squares are made with a series of double crochet stitches.
Irish Lace: small motifs that are sewn onto crocheted mesh fabric.
Pineapple Lace: This is usually called the pineapple stitch, but it is a repeated pattern of stitches that creates a shape that looks like a pineapple.
Freeform Lace: a variable crochet technique, usually replicating various types of "needle lace" (mainly from the 15-17th centuries).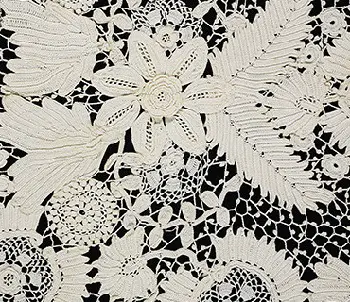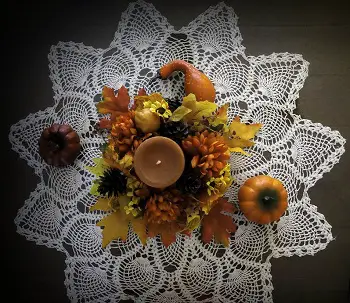 There are many tutorials and patterns available for different forms of crochet lace. The specific stitches used will vary based on the type of lace you are making.
What can I crochet with thin thread?
Items made with crochet thread are usually lacey, openwork pieces. You can crochet doilies, table runners/cloths, shawls, jewelry, Christmas ornaments, garland, artwork/wall hangings, or openwork/lace clothing items.
You can crochet other types of clothing, intimates, bathing suits, as well. There are a wide variety of options.
When I'm looking for a pattern, I tend to use Ravelry.com. This website offers a great filter feature, so you can look for only patterns that use crochet thread.
Side bonus, you can filter to only show free patterns! I love that! Now, I'm not saying you shouldn't ever pay for a pattern because pattern designers are artists and deserve to earn money for what they do, but if something is available for free, I think we should take advantage of it!
Check out this really cute lace crop top pattern, using size #10 thread, which is available for free on ravelry.com!
Is It Easier to Crochet With Thick or Thin Yarn?
It is easier to crochet with thick yarn than very thin yarn or thread because it is easier to see the details in the stitches and where to insert your crochet hook with thicker yarns. Gripping the small hooks is also harder than holding a larger hook.
Thick yarn makes larger stitches, making it easier to decipher the "anatomy" of each stitch. Until you are experienced, inserting the crochet hook may not come naturally, so having those larger, more apparent spaces is ideal. Crochet with thread or thin yarn can be challenging for this reason.
Also, using small steel or aluminum crochet hooks, usually required for crocheting with thin materials, puts more strain on the hands than using thicker hooks. They are lightweight, so that isn't a problem, but the small handle can cause strain. If you have trouble with hand pain due to the small hooks, you can invest in steel crochet hooks with ergonomic (built-up) handles.
3 Tips for crocheting with thin yarn or thread
Ensure good lighting

Lighting is essential when working with small materials. It is like trying to read the fine print. You do not want to cause eye strain while crocheting.

Keep your hands down

When crocheting with the thinner materials, your stitches are smaller and harder to see. Make sure that you do not lift your project up to your eyes to compensate. Follow tip 1, then relax your hands down toward your lap. If you need the work closer, use a pillow to prop up your arms/hands. If you hold the work up to your face, you will end up with shoulder, neck, and back strain as well as eye strain!

Start with a thicker thread when learning.

If you already crochet with yarn, try using a #3 or #10 thread for a project. Don't try to jump straight down to #30 (or even smaller) for your first thread project.
---
If you're looking to make something delicate and lacy, crochet thread is the perfect material for your project. Let me know in the comments if you think of any other questions about crochet thread, and I'll do my best to answer them! 
---
Now it is time for YOU to get Crafty with Ashy!
---