The question of which crochet stitch uses the most yarn may seem like an interesting one. In this post, I will provide the results of an experiment that I completed to answer that question and explain the reasons you may actually want to know what stitch uses the most!
---
So, which crochet stitch uses the most yarn?? After testing five textured crochet stitches, I found that the popcorn stitch used the most yarn to crochet a 4 by 2 inch swatch, using 29% more yarn than the 2nd place, thermal stitch.
---
So you were looking for what crochet stitch uses the most yarn? Well, you may want some additional information about the popcorn stitch found below! Also, check out the detailed results of the experiment comparing the stitches, because the actual differences in length may surprise you! They did me!
In this post, I will provide information about the stitches I chose to compare and how to crochet them! I will also discuss why you may want to consider using a stitch that is a yarn eater!
Results of the Textured Crochet Stitch Yarn Usage Experiment
So, for the experiment, I chose an inexpensive size 4 yarn. I decided to crochet a 4 by 2 inch swatch with a 5.5 mm hook. The hook size was chosen based on the recommended size on the yarn packaging. The swatch size was chosen intentionally small because I knew the stitches were going to use a lot of yarn, and honestly, I didn't want to have to measure more than I had to!
I picked the following stitches to test: popcorn, crocodile, Celtic weave, thermal, and "cotton candy". I chose these stitches because they are highly textured (exception-thermal stitch), indicating greater yarn usage. The popcorn stitch was chosen over other common clusters of bobble and puff because I know from experience that it takes more yarn. I added the thermal stitch, though not textured, because it is touted as "the thickest crochet stitch."
I crocheted a 4 by 2 inch swatch for each of the five stitches I chose. I ensured that the swatch sizes were the same once completed. I also cut the tails to a consistent 3 inches on each swatch. The swatches look variable, but that is just because of the major differences in the appearance of each stitch.
Once they were completed, I frogged (ripped out) each swatch. I measured the length and the weight of each pile of yarn.
Here is a table with the results.
| Stitch | Length of Yarn Used | Weight of Yarn Used* |
| --- | --- | --- |
| Popcorn | 437 inches | 7 grams |
| Crocodile | 280 inches | 4 grams |
| Celtic Weave | 296 inches | 5 grams |
| Thermal | 337 inches | 6 grams |
| "Cotton Candy" | 260 inches | 4 grams |
*the scale used weighted to the nearest whole gram
The result of the Textured Crochet Stitch Yarn Usage Experiment showed that the popcorn stitch used the most yarn. It used 29% more yarn than the 2nd place, thermal stitch.
Why Did I Do the Textured Crochet Stitch Yarn Usage Experiment?
When I researched the question of which crochet stitch uses the most yarn, I found ZERO answers. Even the hits on google that were titled which uses the most were actually about which uses the least! How misleading!
I did find some places that generally stated that textured crochet stitches will use significantly more yarn than the basic crochet stitches.
Well, that was obvious….you are putting multiples of the basic stitches into the same stitch over and over; of course, it will take more than a basic stitch!
Well, because I literally found NO answer to my question, I decided to experiment. I also really like experiments and numbers because I am a nerd, so this was pretty fun for me!
Why do Certain Crochet Stitches Use So Much More Yarn?
In general, it is about building up texture over overlapping more.
The popcorn stitch, the biggest yarn eater, puts 5 double crochets in a single space! This does not add any additional width or height, but it makes the blanket thicker. So for the same size (2 dimensional), it uses way more yarn than a basic crochet stitch.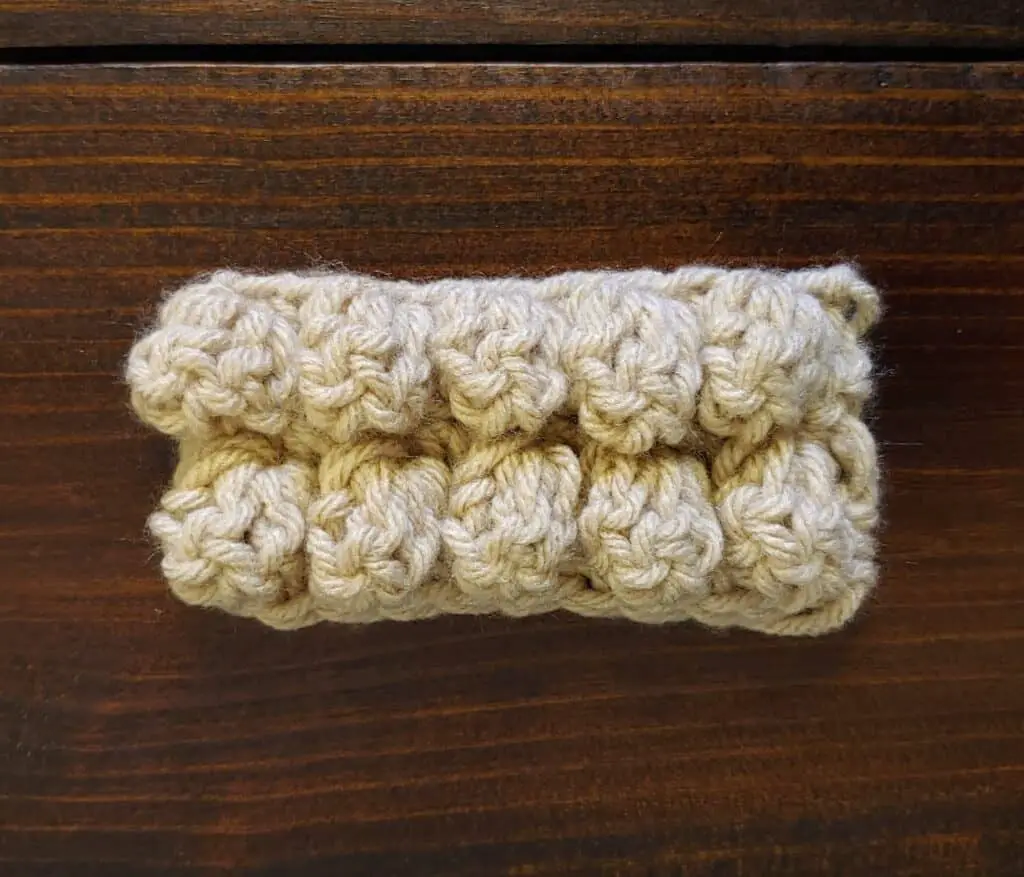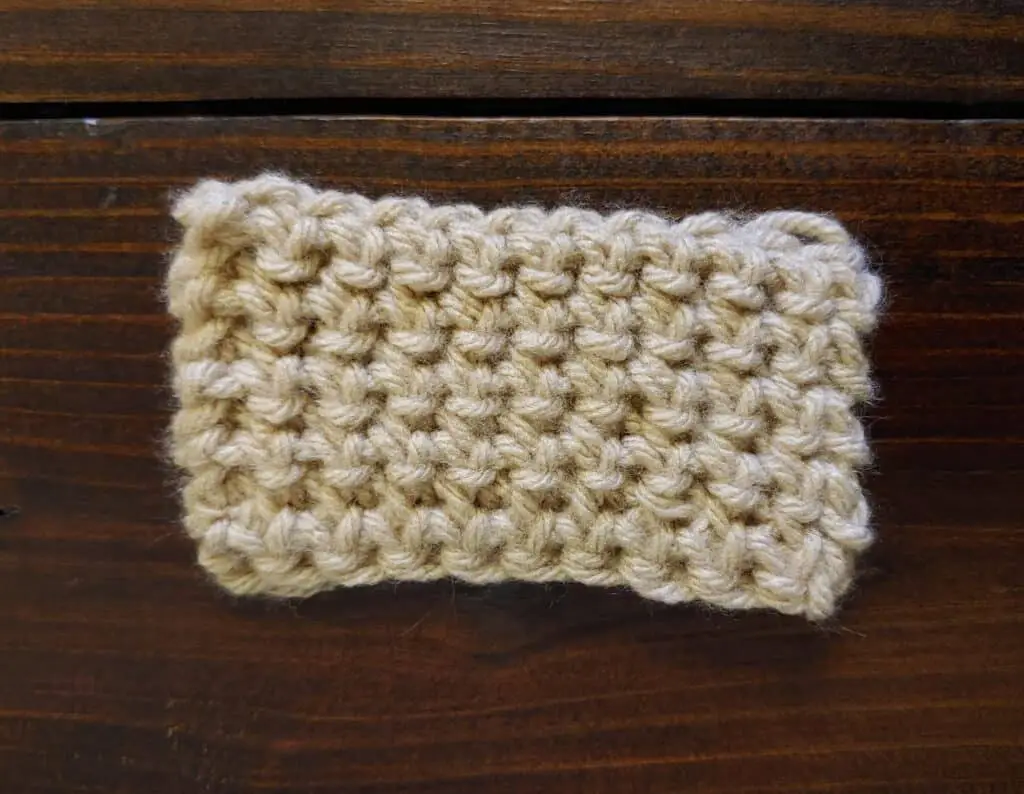 The thermal stitch, on the other hand, does not add any "texture." Before this experiment, I had never crocheted this stitch. It really surprised me how much yarn it used! But after I learned how to crochet the stitch it made perfect sense! Basically, you are doing a single crochet swatch that is double thick! It was amazing how dense and heavy the 4 by 2 inch swatch actually felt!
The other stitches I chose also add significant texture, but clearly, they did not add as much as the top two yarn eaters. While crocheting them, I found them to have more "air space" between stitches, though they were still highly textured.
Why is it Good to Know Which Stitch Uses the Most Yarn??
Now, this is the real question, right!?
Usually, wouldn't I want to know which uses the LEAST yarn? (By the way, you can find that information in my post about the stitches that use the least yarn!) Don't you typically want to get the most bang for your yarn buck and conserve yarn?
Well, yes, usually I would say this is true; BUT….what if you don't!? Here are some reasons you may ask the question of which stitch uses the MOST yarn!
You want to avoid that stitch. Okay, so you may be asking so you can be frugal. I get it!
You want to make the heaviest, warmest, most cozy blanket that you can! If you have more yarn per square inch in a blanket pattern, the blanket will be warmer and heavier. Weighted blankets are VERY TRENDY right now! It would be like that, right?!
Similarly, you want to make a very warm scarf, sweater, etc.
You are making a pot holder….(for this the thermal stitch is recommended by the way.)
You have a yarn that you don't like, so you just want to use it up. Maybe your great aunt gave you her old stash, and she had some UGLY colors? Who knows.
You are wanting to use up your yarn stash on a multicolored, striped blanket, but you have a lot of one color. If you choose a stitch that uses more yarn per square inch, you would be able to keep that specific color from dominating the height of the blanket
That's it. That's all the reason I could think of. I do think they are pretty good reasons though! If you can think of any others, let me know in the comments!
How do You Make the Textured Crochet Stitches?
The textured crochet stitches are more advanced stitches. They are pretty hard to follow written instructions for, so I would actually recommend going straight to a video. This is what I did, as I had not crocheted any of these stitches before, except for popcorn. I will now though! I loved the Celtic Weave!
So instead of providing a written description of the pictures, I am going to give you the links to the YouTube videos that I used to learn the stitches!
---
So there you go! I think I've covered it! You have your answer to which stitch uses the most yarn, when you would use it, and how to make it! If you think of any other questions about it, drop me a comment, and I will answer the best I can!
---
Now it is time for YOU to get Crafty with Ashy! Show me YOUR yarn eater crochet creations in the comments!
---
Be sure to subscribe and follow me so you don't miss any inspiration!
---