Crocheting is currently considered a hobby. Something to do to pass the time, stimulate the brain, relax, be creative, or show someone you care by giving something handmade. A wide variety of things can be made, but what was the original purpose of crochet?
---
What is the purpose of crochet? Crochet originated in its most basic form in the early 1800s to create useful, sturdy garments such as hats, underwear, or coats. This type of crochet was called "slip-stitch crochet" and was done in Scotland, Sweden, Norway, and other parts of northern Europe.
---
Slip-stitch crochet is a long way from what we are used to today, and there is a long history after this original, functional, no-frills craft started. There are also suggestions of other origins, but none have been as definitively determined as this one which was documented in the book Memoirs of a Highland Lady by Elizabeth Grant.
Origin of Crochet
The history of crochet is actually not 100% determined, but the earliest written work about crochet was from 1812 in the book mentioned above. It described garments made from a single, hooked instrument using a "slip-stitch" method and yarn. This craft was called "shepherd's knitting" or "slip-stitch crochet."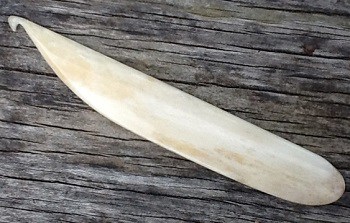 Previous to that, it is suggested that this type of "crochet" may have actually been around in the middle east or other parts of northern Europe, but it is unclear.
It is also suggested that Spanish nuns may have made crochet laces in the 1500s, but there is no evidence of this. If this is true, it was far more advanced than the slip stitch crochet techniques used in Scotland and elsewhere.
History/Evolution of Crochet: Transition from Slip-Stitch Crochet
So, in 1812 (and probably a bit earlier), very basic "crochet" was developed. This was used solely for functional purposes and created what seems to be warm clothing for winters. As far as researchers can tell, this involved using only one type of stitch.
In 1823, the first crochet patterns were actually publish in a magazine, "Penélopé", from the Netherlands. This was the first time the word "crochet" was actually printed. The patterns resemble what we now call "tapestry crochet." This indicates that between 1812 and 1823, the single crochet stitch was developed, and the method of carrying different colors or thread or yarn along to create colorful items was created. This is a huge step from very basic clothing with slip stitches. Likely, this was an inexpensive way to adorn or accessorize yourself in these times. The patterns in this magazine were for purses. Even way back in the 1820s purses seemed to be a way to express yourself using color and pattern!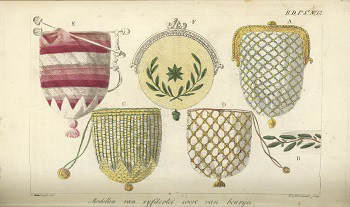 Between 1823 and the 1840s, it seems the popular function of crochet was accessorizing and using color with the technique similar to tapestry crochet. During that time more variety of stitches were developed, leading to taller and more varied looks to the stitches. This evolution lead to developing more advanced techniques and more variety.
In the 1840s, the technique for crocheting lace was developed. A French woman name Mademoiselle Riego de la Branchardiere is credited with inventing "Irish Lace," having published patterns in 1846. It seems that this woman invented the technique, but that it became known as Irish lace due to the popularity of its creation in Ireland.
This lace is actually worked with very thin thread and small steel crochet hooks. A "background fabric" is made as an open work, mesh type fabric. Then, smaller motifs are made such as flowers, "wheels", scallops, or filigree. These motifs were then attached to the background fabric. The lace is very detailed and delicate. It is time consuming to make, but the materials are not very expensive.
During the Irish Famine (1845-1849) many Irish people learned to crochet to make money. People who normally made an income and sustained themselves through farming had to find a way to earn money to feed themselves and their families. Schools were actually opened to teach Irish people (men, women, and children) how to crochet, and then they were able to sell their items.
Irish lace is said to have been made more popular by an upper class Irish Woman who encouraged her connections in other countries to purchase the lace. Also, is is said that Queen Victoria bought the lace, which popularized it throughout the UK. It became somewhat of an icon throughout the would.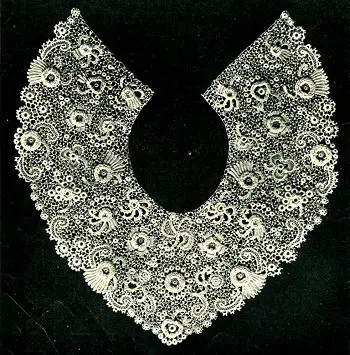 When many Irish people immigrated to the US, the craft was brought with them. Between 1900 and 1930, Americans were influenced by these Irish immigrants and picked up the craft. During this time crochet techniques were used to make a variety of items including blankets, rugs, and teapot cozies.
During World Wars I and II,women made very practical crochet items for the troops, but there isn't evidence of the techniques being advanced significantly and limited numbers of patterns were published.
Once the wars were over, crochet became more popular. Between the 1940s and the 1960s, crochet was primarily used for household items such as doilies or tablecloths. These were often made with open work, lacy techniques and appeared delicate.
Between the 1960s and 70s, crochet clothing became much more common, often using the very popular granny square.
Since then, it has continued to evolve, though many people still enjoy making items from granny squares. Crochet items are still popular including warm clothing and accessories like hats, scarves, blankets; or things like lacy, open work tops or shawls. We can really make anything from delicate lace tablecloths to thick, heavy blankets to all sorts of clothing items or accessories. There is a ton of stitches and techniques used now.
(See right for a few examples showing the variety of crochet items!)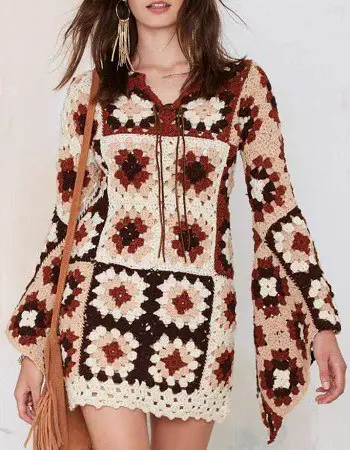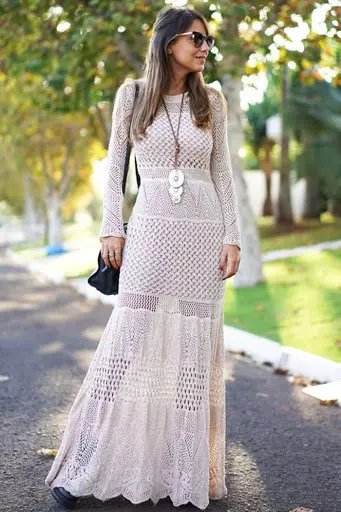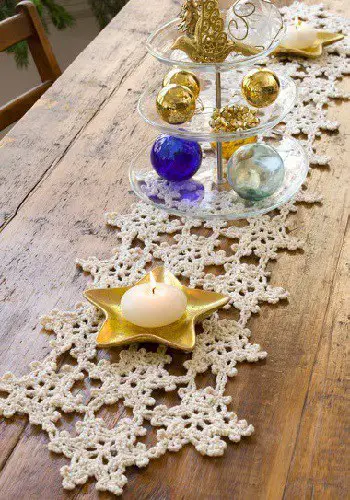 Related Questions
Who Invented Crochet?
The first description of crochet was in 1812 from Scotland. It is unknown the person or even officially the country of origin for this crochet. What IS known, is a French woman name Mademoiselle Riego de la Branchardiere is credited with inventing "Irish Lace Crochet," having published patterns in 1846.
When Did Crochet First Start?
The first time the word crochet was actually printed was in 1823 in a magazine, "Penélopé", from the Netherlands. Earlier forms, not called crochet, were described in writing as early as 1812.
Where is Crochet Most Popular?
According to internet search statistics, crochet is most popular in Bolivia, Argentina, Chile. The United Kingdom is ranked number 11 and the United States is number 15 (as of 2021).
Can Crochet be Machine Made?
Crochet CANNOT be made with a machine. It MUST be handmade due to the complex nature of the stitches.
---
If you think of any other questions about this topic, drop me a comment, and I will answer the best I can!
---
Now it is time for YOU to get Crafty with Ashy!
---
Be sure to subscribe and follow me so you don't miss any inspiration!
---