If you love cheesecake, you are in the right place! If you want to learn to make amazing cheesecake, you are still in the right place!
---
I developed this recipe by adapting different recipes that I have seen and using some of my own techniques to make a delicious, subtle white chocolate raspberry cheesecake.
---
This cheesecake recipe is one of my "go-tos" for potlucks or gatherings because it is ALWAYS a hit. I have been told mulltiple times, "This is the best cheesecake I've ever had!" and "You HAVE to give me this recipe." So here it is!
Cheesecake I think gets a bad wrap for being challenging to make, but if you follow some simple tips, it isn't too bad. It is all about the prep and the patience.
For prep work, I start with flipping the bottom of my springform pan upside down….sounds weird, but it is easier to get the cake out without messing up the crust if you do it that way.
I also line the pan with parchment. If you wrap it around the bottom, then put the bottom in with the parchment sticking out the bottom, it is SOO easy to get the cheesecake off. (See the video if you don't get it. I don't know how to explain it.)
I also pre-bake my crust to make sure it doesn't get soggy.
Now for the patience…you need to let the cheesecake cool slowly after it is baked, so on the counter first for about an hour, then in the fridge for 4 more hours. This will prevent it from cracking.
So those are my biggest tips for making cheesecake in general.
Let's get on with HOW to actually make White Chocolate Raspberry Cheesecake!
If you prefer a video tutorial, check it out here. If you just want the recipe, skip over it. 🙂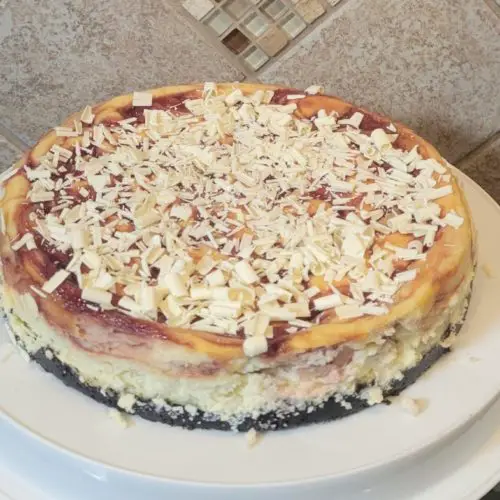 White Chocolate Raspberry Cheesecake
Rich and creamy cheesecake with subtle hints of white chocolate and tart raspberry.
Equipment
9 inch Springform pan

https://amzn.to/3GvC4hd
Ingredients  
Crust
16

Oreos

1/4

cup

Butter

Melted

6

oz

white chocolate

chopped or chips
Filling
1/2

cup

Raspberry Preserves

1/4

cup

water

24

ounces

cream cheese (softened)

3 packages

1

cup

sugar

1/2

cup

sour cream

2

tsp

vanilla extract

3

eggs
Garnish (optional)
2

oz

white chocolate

shaved

whipped cream
Instructions 
Crust
Preheat oven to 350°. Line a sprinform pan with parchment paper and oil/spray the sides. wrap the outside of the pan with 2-3 layers of aluminum foil (will prevent leaking and keep water from the water bath out of the pan).

Crush Oreos in a food processor. Add melted butter and pulse 2 or 3 times to mix.

Pour and press firmly into the bottom of prepared springform pan. spread 6 oz white chocolate in crust.

Bake for 5 minutes. remove from oven and spread melted white chocolate. Set aside
Filling
Raspberry Swirl: Heat raspberry preserves and water for about a minute in the microwave, mix. Strain through a mesh strainer to remove seeds. Set aside

Cream sugar and softened cream cheese until smooth. Mix in sour cream and vanilla.

Add eggs, one at a time, beating after each until just combined. Scrape bottom and sides of bowl and beat for a few more seconds. DO NOT OVERBEAT.

Preparing: Pour half of the filling mix into the prepared crust. Level. Swirl half of the raspberry preserves. Add the rest of the filling, then swirl the rest of the raspberry on the top.

Baking: Place the pan into a casserole dish, then add water in the dish (outside the pan) until about halfway up the side. Bake for 50 to 60 minutes. The filling will be set about 1" around the edges, but still "jiggly" inside.

Cooling: Remove from oven and cool on counter for about an hour. Transfer to fridge and cool completely (about 4 hours).
Serving
Top with shaved white chocolate, and release from springform pan. If adding whipped cream, add just before serving.
---
Now it is time for YOU to Get Crafty with Ashy! I would LOVE to hear about your cheesecakes!
Let me know in the comments how it went and if you make any modification! We can always improve!
---