Most crocheters have a love affair with yarn. It is almost as exciting to shop for the yarn as it is to finish a project! There are a wide variety of yarns available which is part of the reason yarn is so fun! But with this wide variety, sometimes it can be confusing.
---
In this post, I will explain the following information about yarn:
Yarn Type
Yarn Texture (specialty yarns)

Ribbon
Railroad Ribbon
Bouclé
Chenille
Thick-Thin
Faux Fur
Eyelash

Yarn Weight
Yarn Label
---
As you can see from the list above, there are a lot of things to consider when looking at yarn, and choosing the "best" yarn is actually very project dependent. So, in addition to describing it, for each types, texture, and weight of yarn, I will provide information about what projects they work best for!
Yarn Type (Fiber Content)
There are many types of yarn from animal, plant, and synthetic materials. The most common are acrylic, wool, and cotton; so let's dive into the features of each of these fibers!
Acrylic
Pros
Acrylic yarn is widely available and comes in pretty much every color imaginable. It also can be come variegated or patterned.
It is low cost (comparatively).
It is a synthetic fiber and poses a low allergy risk. (Great if you are making something for someone else and don't know if they are allergic to wool or other fibers.)
It is elastic making it easier to work with.
It is durable and easy to clean/care for.
Great for beginners because of all of the above features!
Cons
Some of the "budget" acrylic yarns may split making it frustrating to work with.
It can stretch out of shape because of the elasticity (but it can be "blocked" back into shape).
Uses
Acrylic yarn can be used for essentially any crochet project you have including clothing, baby items, arigurumi (stuffed toys), blankets, home decor, etc.
Wool
Pros
Wool yarn is also widely available and comes in many colors and patterns, though not as many as acrylic yarn.
It is durable, and clothing and accessories made from wool yarn will last a long time as long as you care for them properly (according to the label care instructions).
It is flexible and easy to work with.
Items made from wool yarn are warm and cozy.
Cons
Wool is an animal fiber and some people are allergic to it.
It can be scratchy, but usually is blended with other fibers to make it softer.
It can be harder to clean or require special care.
Uses
Wool yarn is good to use for winter clothing like sweaters. It is also nice for winter accessories such has scarves, hats, and socks.
Cotton
Pros
Cotton yarn is easily found, though not as widely available as acrylic yarn. It comes in a wide variety of colors and patterns.
It is a natural plant based fiber with a low allergy risk.
It is lightweight and breathable.
It is absorptive, so if you want something that will hold water, it is ideal.
Cons
It is inelastic, and can be more difficult to work with.
It is higher cost than synthetic yarns.
Can be harder to care for than synthetic yarns.
Uses
Cotton yarn is best for lightweight clothing and accessories and household items. It is very good for things like dishcloths that need to absorb water. Because it does absorb water, don't use it for swimwear.
Here is an infographic for quick reference with some of the main points about each fiber type.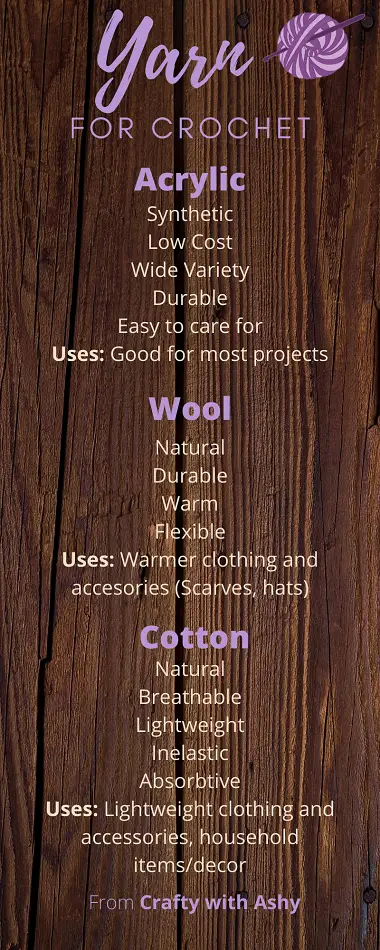 Yarn Texture (Specialty Yarns)
Ribbon Yarn (or Tape Yarn)
Ribbon or tape yarn is flat, lightweight yarn. It can be two parallel threads with horizontal threads strung between or it can be more like just flat fabric of any material. It is typically not super durable, with the exception of the trendy t-shirt yarn that is quite durable.
It is best used for accessories like belts, scarves, headbands, or necklaces, but can be used to add trim or other embellishments on any garment or blanket.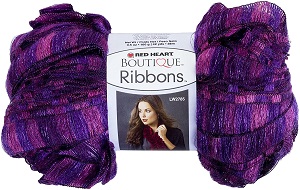 Railroad Ribbon Yarn (or Ladder Ribbon Yarn)
Railroad ribbon or ladder ribbon yarn is similar to the regular ribbon yarn made of threads. It has two parallel tracks then has intermittent horizontal clusters of thread. It is typically made of synthetic fibers and comes in a wide variety of colors. Usually it is multicolored.
It is best used for accessories like necklaces, headbands, and scarves. It is fairly fragile, so you wouldn't want to use it for something that will have a lot of wear and tear.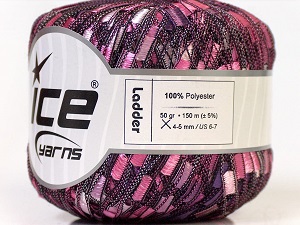 Bouclé Yarn
Bouclé means "curl" in French, which describes this type of yarn perfectly. It is made of multiple strands of yarn, one with tight tension, then the others looser and looped around it resulting in curls of yarn. It can be made of any fiber and comes in many colors.
This yarn is good for anything that you want to add texture to including clothing, afghans, rugs, and accessories. It does obscure the definition of the stitches, so it is best to chose a pattern with simple stitches and let the yarn add the interest.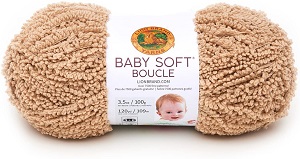 Chenille Yarn
Chenille means "caterpillar" in French, which again describes this yarn well. It is thick and fuzzy just like a caterpillar. It can be made of various materials and comes in many colors.
It is best used for anything you want to be really soft and squishy. This includes clothing, scarves, hats, and blankets.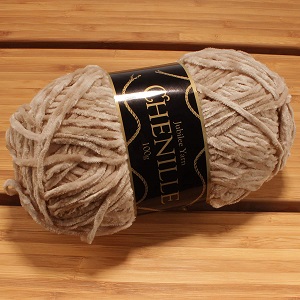 Thick-Thin Yarn
Thick and thin yarn is yarn with an inconsistent or variegated thickness/diameter. It can be made of any fiber, though often it is wool. It is not a super common type of yarn, but does come in a variety of colors.
It is best to make accessories and household items because the gauge will not be consistent. It would be difficult to make clothing with this type of yarn.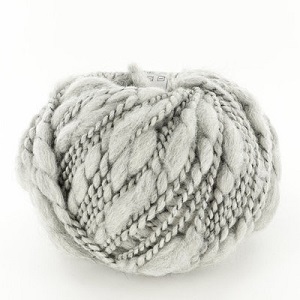 Faux Fur Yarn
Faux fur yarn is pretty self explanatory; it looks like fur. It comes in many variety though and can be more feathery or more thick and fuzzy. You can get it in many colors as well. It is typically made from synthetic fibers.
It is great for anything that you want to have the appearance of fur including clothing, accessories, and household items. It is especially great for amigurumi, which is crocheting stuffed toys/animals. It works best with simple stitches because it will obscure stitch detail.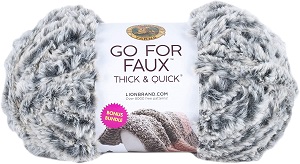 Eyelash Yarn
Eyelash yarn is similar to some faux fur yarns, but is technically its own category. It is made from synthetic fibers with a strong base thread. Then short threads are attached to give its characteristic look. It comes in pretty much any color including metallic varieties.
It is best for making accessories and for adding trim to garments and blankets. It will obscure the stitch detail, so choose simple stitches.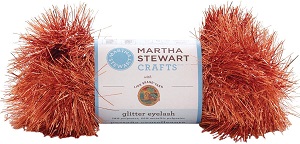 Well that pretty much covers the specialty/novelty yarn selections. Below is an infographic for quick reference providing the basic description and best uses for each type.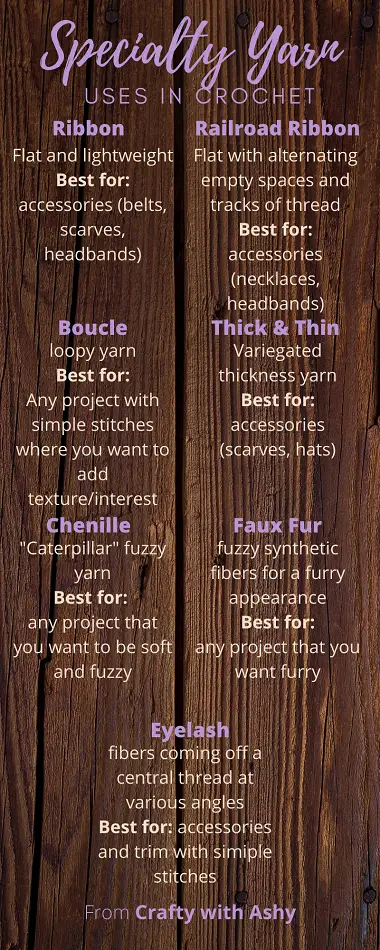 Yarn Weight
Yarn weight actually refers to the diameter or thickness of the yarn. It is standardized and comes from 0 to 7 with 0 being very fine thickness for making lace and 7 being very thick for things like rugs and bags.
This infographic provides the standardized symbol, descriptions, recommended crochet hook, and most common uses for each yarn weight. Save and share the infographic for quick reference!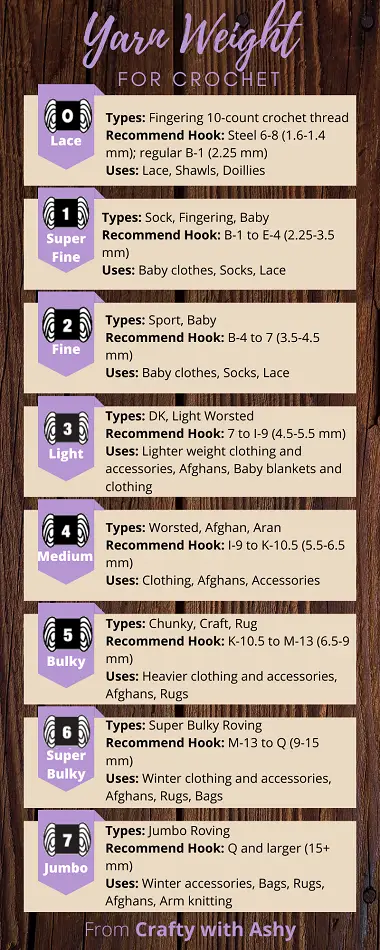 Yarn Label
The yarn label will include all of the information you need to know about the yarn, but it is a lot of information. Some of it is important, other parts not as much.
Included on the label is all of the following:
Brand Name
Fiber Content
Yarn Weight (Thickness)
Color Name/Number
Dye Lot Number
Care Instructions
Yardage and Weight
Suggested Knitting Needle and Crochet Hook
Gauge
See example label to the right. Now, we will look at each section and tease it out.
Brand Name
The brand name of the yarn will be the largest/most obvious part of the label. It may also include the name of the yarn line within the brand.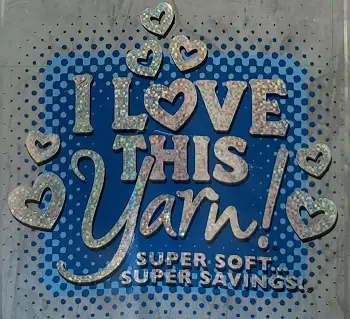 Fiber Content
This is the area that will tell you want the yarn is made of. In this example it is 100% acrylic which means it is all synthetic. It may be 100% wool or cotton, or it may be a blend of some sort.

Yarn Weight (Thickness)
Somewhere on the package, the standardized symbol for yarn weight will be present. (See the chart above for the descriptions of each.) The table may include the name of the weight like this example, Medium, or it may just have the symbol.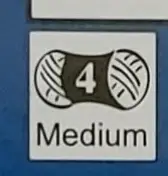 Color Name/Number
In this section, the name and number of the color will be listed. This is brand specific.

Dye Lot Number
The lot number or dye lot number will be listed on the label. This may not seem important, but it is actually very important if you are making a project with multiple skeins of the same yarn. The dye lot means that all the skeins with that same number were dyed with the same batch of color. This means, they will be exactly the same color. Though a skein may be the same color name/number, it could be a slightly, but noticeably, different color if it came from a different dye lot.
When choosing your yarn for a project, look to make sure all of you yarn in that color is from the same dye lot!

Care Instructions
Care instructions are listed on the label as symbols, not words. These are standardized, but a lot of people (including myself) don't really know what they mean until looking it up. If you are making something for someone else, make sure to tell them how to clean it!
There are 5 parts of the care instructions. (See the picture and caption to the right.)

Here are the symbols you will see, provided from the Craft Yarn Counsel Care Symbols page.
Washing

Ironing

Dry Cleaning
Drying

Bleaching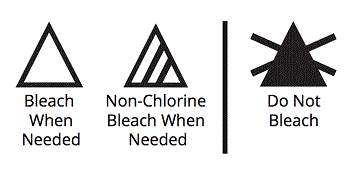 Yardage and Weight
This area tells you how much yarn is in the skein. When looking at a pattern, it may tell you how much yarn is needed in yardage or in weight (grams or ounces).

Suggested Knitting Needle and Crochet Hook
This tells you the crochet hook size (or knitting needle size) that "matches" the yarn thickness. This section is kind of silly because you can really use any size you want. If you use a smaller hook, you will get tighter, stiffer fabric; if you use a larger hook it will be more loose and flowy. None are wrong.
If you are working from a pattern, you want to use the hook stated or the hook that ensures you have the same gauge as the original designer, not the one that matches the label on the yarn.

Gauge
Similar to the suggested hook, this section is weird. Everyone crochets differently in regards to tension or gauge, so again, go based of the pattern you are working. If you are designing your own pattern, make a gauge swatch based on your tension, not based on the recommended gauge on the packaging.
---
Thanks for taking the time to learn all about yarn! I hope this information is useful for you now and as a reference in the future! If you think of any other questions about yarn, drop me a comment, and I will answer the best I can!
---
Now it is time for YOU to get Crafty with Ashy! Let me know what your favorite yarn is in the comments!
---
Be sure to subscribe and follow me so you don't miss any inspiration!
---